Plantanense Seeds
Robust seeds for a stronger profitability
A good seed defines the superiority of a good harvest. Built on the marriage between technology and the altitude climate, Plantanense's soy beans and wheat have high quality and a genetic resistance, directly contributing to a productive harvest.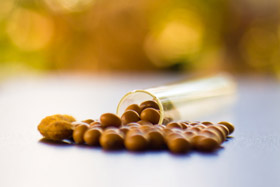 The technology used to develop the line of seeds, coupled with the excellent climate and altitude for the cultivation of cereals and grain preservation of Santa Catarina, ensure Plantanense's brand differentiation.
The perfect standardization of screens across the seed line passes through a rigorous evaluation process, which starts in crop planning, follows from planting to harvest and ends at vertical UBS ensures less damage to grain, with the total disposal of non uniform and damaged grains, attending to 100% of the expectations of the producer.
Another great advantage of Plantanense is the quality control. To ensure uniformity in the selection of seeds, control systems are applied from planting, through harvesting, to vertical UBS. These processes prevent damage to the grains and discard all damaged and non-uniform grain. This means seeds of first line for cultivation of soybean and wheat much more profitable for the producer.